September 28, 2023
The new biotech will use its unique development approach to bring transformative cell therapies to market, starting with a promising treatment for Retinitis Pigmentosa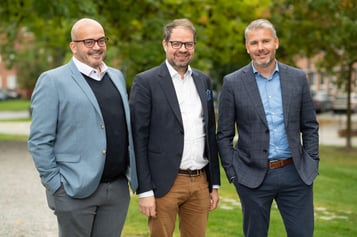 Alder Therapeutics, a new preclinical phase stem cell therapy development company, is set to reshape the cell therapy sector with a novel, reduced-risk approach to cell therapy development and two promising cell therapy candidates for diseases with high unmet need. The company's lead program, a mutation-agnostic cell therapy to treat patients with Retinitis Pigmentosa (RP), is backed by strong preclinical data and is set to enter clinical trials in 2026, pending a successful funding round, which opened in September 2023. The company will be attending several conferences in October and November to discuss their new approach to cell therapy development, as well as to give more information about their current programs.
Pluripotent stem cell (PSC) therapies provide hope to patients with incurable diseases. But current approaches to bringing such therapies to market are challenging. Development is often risky and poorly planned, manufacturing processes are unpredictable and costly, and income models are unreliable. In 2022, Alder Therapeutics was formed to overcome these issues and unlock the benefits of PSCs for patients across the world, using a new approach to cell therapy development that reduces risks and embeds commercial considerations at the core of development programs.
Using this approach, the company is progressing a transformative cell therapy for RP — a debilitating inherited blindness disease with limited treatment options — and one for chronic heart failure. Alder Therapeutics successfully raised €3m in seed funding from Swedish investment firms Flerie and Linc based on the promising RP and cardiovascular programs, which had already generated excellent preclinical data, and the robust manufacturing methods developed. The company now aims to raise €22m to progress its RP orphan drug program through Phase I/IIa by 2026, and to prepare its cardiac program for GLP toxicity studies.
"Current RP treatments are limited to one single-mutation gene therapy, with only a fraction of patients eligible," said Kristian Tryggvason, CEO of Alder Therapeutics. "But our retinal therapy is mutation agnostic and potentially curative, meaning it could be suitable for the majority of RP patients. What's more, it outcompetes many other cell therapy options, having a streamlined and highly scalable manufacturing process. We've already demonstrated the efficacy preclinically. Now we're looking to progress it through clinical trials to unveil its true potential in the clinic."
Ricardo Baptista, Chief Technology Officer at Alder Therapeutics, added, "We've crafted an entirely new philosophy to cell therapy development. Right from the start, we create robust and scalable manufacturing processes, ensure we select suitable starting cell material, and conduct commercial viability assessments to estimate ROI. And, with a virtual, agile operational structure we can tap into the best expertise to help propel us forward. With this approach, we believe we can substantially de-risk the path to cell therapy success."
Alder Therapeutics will attend the following events to share more information about their highly promising cell therapy programs:
To find out more about Alder Therapeutics and track the progress of their cell therapy candidates, please visit: https://www.aldertx.com/
About Alder Therapeutics
Alder Therapeutics is a virtual preclinical stem cell therapy development company that is shaping the future of regenerative medicine. Founded in 2022 by three seasoned cell therapy and industry experts, the company has two promising allogeneic stem cell therapy programs in the pipeline: one for degenerative eye diseases, and one for chronic heart disease. At the core of the company's success is the AlderEdge platform — a novel approach to cell therapy development that keeps the commercial product in mind from the start for a de-risked route to success.
For more information about Alder Therapeutics, please visit us at aldertx.com
Categories: Biotechnology, Drug Discovery & Development, Corporate, Finance & Investor