October 26, 2021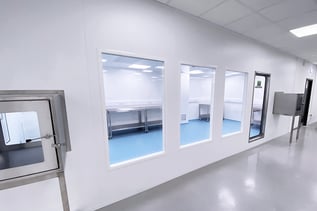 BioPharma Dynamics, a leading life sciences solution provider, proudly announce the opening of their new ISO Class 7 cleanroom facility located at new headquarters in Salford, Greater Manchester. This expansion sees the company treble in size, with its new premises adding the capacity for product assembly and increased warehouse and office space.
The exciting new single-use assembly cleanroom facility has been custom designed and manufactured to accommodate the increasing needs of the UK's life sciences industry. Matched with their strong partnerships with a portfolio of market-leading manufacturers, the expansion will enable BioPharma Dynamics to provide a complete design-to-supply service, through high-quality production of assemblies at improved lead times.
BioPharma Dynamics are proud to create new jobs for the local area, with the addition of cleanroom technicians and warehousing staff to their thriving team. This new expansion sits just a stone's throw from the bustling technological metropolis of Media City UK and is supremely located within the cluster of Life Sciences ventures in the North West.
Marking a new era for the company, who have continually built a strong reputation as customer-first supplier to the Life Sciences & Pharmaceutical industry. This expansion features dedicated warehouse and office space, to facilitate BioPharma Dynamics' commitment to providing first-rate customer service and support.
Formed in 2008, BioPharma Dynamics began as a division of parent company, Action-Sealtite. Building from the ground up, they grew to become a standalone company trading as BioPharma Dynamics Ltd in September 2015, doubling in size and further expanded to opening a dedicated sales and marketing office. This newest expansion for BioPharma Dynamics follows a period of exponential growth piloted by Joe Brennan, Managing Director.
"Without the patience and support of my co-founders in the early days, along with the dedication and hard work of the whole team since, we would not have been able to achieve this milestone. It makes me very proud to be able to bring this exciting new phase of our growth to the North West"
– Joe Brennan, Managing Director
This project has become a reality through the investment of all shareholders who have supported the vision and is a testament to the hard work of all those involved.
The excellent team at Biopharma Dynamics have made huge progress developing their business over recent years. At Flowmax Group we were excited to invest in the installation of a new clean-room product assembly facility and to support their continued growth in a sector we see as strategically important to our group.
– Graham Morrell, Flowmax Group
For more information about BioPharma Dynamics new cleanroom and headquarters, please visit www.biopharmadynamics.co.uk or contact us directly at +44 (0) 161 705 4307.
About BioPharma Dynamics
BioPharma Dynamics are a market-leading single-use solutions provider for the Life Sciences & Pharmaceutical industry, with ISO 9001 & 14001 accreditations. Committed to providing the most cost-effective solution for customers, using the latest single-use products, from the most innovative manufacturers in the marketplace. Based in the UK, BioPharma Dynamics are dedicated to serving the UKs outstanding Cell and Gene Therapy industry, keeping them up to date with the latest developments in single-use solutions specific for their needs.
Categories: Microbiology & Infection Control, Corporate, Finance & Investor, Life Science