April 26, 2022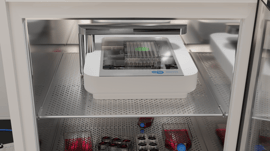 CytoSMART Technologies, an Axion Bio company, today announced the launch of the CytoSMART Omni FL, a next-generation live-cell imaging analysis system incorporating red and green fluorescence channels into its signature CytoSMART Omni product line for the first time. The advance reflects the company's ongoing commitment to provide high-quality, accessible live-cell imaging to every cell biology lab and offers an innovative platform for researchers in stem cell biology, immuno-oncology, virology, toxicology, neurology, and other fields.
Joffry Maltha, CEO at CytoSMART Technologies stated, "We are very excited to launch a fluorescence version of the popular brightfield live-cell imager CytoSMART Omni. The new CytoSMART Omni FL brings research to another level and allows scientists to gain greater insight into their experiments while reducing the amount of time spent on manual labor. This advancement represents the next big step in our continued product line innovation strategy designed to accelerate scientific discovery and drug development."
Live-cell fluorescence microscopy is a powerful tool with broad applications in biological research. Using fluorescent tags, dyes, and other methods to label and examine molecules of interest, imaging provides a critical window into the physiology and function of cells over time and enables the creation of high-quality time-lapse videos to track complex cellular processes. Featuring an innovative design that operates efficiently in a cell culture incubator, universal compatibility with any transparent culture vessel, and AI-driven analysis with user-friendly data storage solutions, the low-maintenance CytoSMART Omni FL overcomes the limitations of other imaging platforms and allows for plug-and-play experimentation right out of the box. Applications of live-cell fluorescence imaging include evaluating cell health and viability, assessing wound healing and colony formation, studying transfection efficiency, and investigating complex culture models such as co-cultures and 3D organoids.
According to Axion President and CEO Tom O'Brien, "CytoSMART has reimagined the microscope, engineering powerful imaging systems that fit comfortably in a standard incubator. While other imaging systems may miss small changes or rare cells or interest, the CytoSMART Omni continuously captures the whole culture surface for a more complete picture. The launch of the Omni FL is another step forward in our mission to provide customers with high-quality instruments and powerful software that rapidly advance live-cell research, as well as cell and gene therapy development."
For more information on CytoSMART Omni FL, visit the official CytoSMART website.
About CytoSMART
CytoSMART Technologies is a specialist in the development and manufacturing of live-cell imaging systems for life science laboratories. The company was founded in 2012 by a team of biologists and engineers who were convinced that a new generation of miniaturized microscopes, powered by artificial intelligence for image analysis, would allow biologists to make discoveries more efficiently and at scale. In 2018, CytoSMART was selected by Microsoft for its prestigious ScaleUp program. CytoSMART's microscopy solutions are used in research laboratories worldwide. In 2022, Axion BioSystems, a US-based life sciences tools company focused on advanced live-cell assay systems, acquired CytoSMART Technologies. Both companies see large synergies to accelerate further growth together. CytoSMART Technologies is headquartered in Eindhoven, the Netherlands, and has more than 50 employees. www.cytosmart.com
About Axion BioSystems
Axion BioSystems is a leading life sciences tools company focused on innovative live-cell assays used to study the function of cells in vitro for drug discovery and disease modeling. The team at Axion BioSystems is dedicated to continuing the advancement of new technologies that accelerate research and further the understanding of biological complexity outside of the body. Axion BioSystems is headquartered in Atlanta, Georgia, USA, and has offices worldwide. Axion has more than 110 employees across its current locations. www.axionbiosystems.com
Join CytoSMART on social media:
Categories: Microscopy & Imaging, Microbiology & Infection Control