March 31, 2022
Dolomite Bio will be exhibiting at the AGBT Agricultural meeting on the 4th-6th April 2022.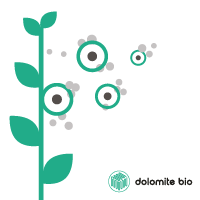 The potential for single cell RNA-Sequencing methods in the study of plants is significant, which is why Dolomite Bio developed a custom workflow specifically tailored to the needs of single cell research on plant cells. The plant protoplast RNA-Seq (ppRNA-Seq) method on Dolomite Bio's Nadia Instrument generates high quality transcriptomic data from both large and small plant leaf and root protoplasts. The protocol is tailored to work with specialized leaf protoplast buffers to ensure plant protoplast integrity. This is accompanied by the specific benefits created by the flexibility of the Nadia Instrument, as unlike most commercial single cell platforms, Nadia can process cells up to 60 µm in diameter.
Nadia takes scRNA-Seq to the next level by using automation and flexibility to generate high quality reproducible single cell data. Encapsulate up to eight samples, in parallel, in under 20 mins, with over 50,000 single cells captured per cartridge in a run. Adding the Nadia Innovate to the Nadia Instrument transforms it into an open system, for the development of novel protocols and applications.
Attendees of the AGBT Agricultural meeting will be able to discuss the exciting possibilities of ppRNA-Seq with Dolomite Bio's Single Cell Specialist, Alita Zabrecky. As well as have the chance to see the Nadia platform for themselves. Visitors to booth 100 can also expect some exciting giveaways and games to keep them entertained between talks!
Alita Zabrecky said: "I am looking forward to joining this inaugural AGBT Agricultural event and to discuss how our plant single cell application can advance your research!"
To find out more information about plant protoplast RNA- Sequencing application with the Nadia platform, click here: https://bit.ly/3qQg9KG
About Dolomite Bio
Established in 2016, Dolomite Bio creates innovative products for high throughput single cell research. By encapsulating single cells in microfluidic droplets, its products enable rapid analysis of thousands or millions of individual cells and their biological products.
Dolomite Bio's products include the Nadia Product Family, enabling research in many application areas, such as single cell RNA-Seq, single nuclei RNA-Seq, plant protoplast RNA-Seq and the encapsulation of cells in agarose.
Dolomite Bio is a brand of Blacktrace Holdings Ltd (est. 2001), a world leader in Productizing Science®. Its Head Office is in Royston (near Cambridge), UK with regional offices in the USA, Japan and Vietnam.
To learn more about Dolomite Bio, please visit www.dolomite-bio.com
Categories: Omics & Genetics, Cell Culture