February 9, 2022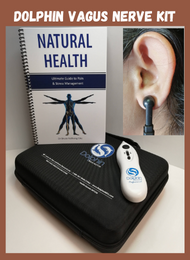 Center for Pain & Stress Research Ltd., a bio-electronic medical research company, today announced that its Dolphin Vagal Stim device has received breakthrough approval from Health Canada as Canada's first therapy for treating COVID-19.
There is one therapy quietly saving thousands of COVID lives, and it approved by Health Canada for COVID-19 acute respiratory distress. It is called Dolphin Vagal Stimulation. The vagus nerve is the longest nerve in the body that travels down from the brain to innervate and control breathing, stress levels and inflammation. The Vagus nerve is considered the "brakes" of our bodies, controlling 80% of our parasympathetic response.
HEALTH CANADA:
Dolphin Vagal Nerve Stimulator is now authorized by Health Canada for emergency use authorization for acute use at home or in a healthcare setting to treat adult patients with known or suspected COVID-19 who are experiencing an exacerbation of asthma-related dyspnea and reduced airflow, and for whom approved pharmacologic therapies are not tolerated or provide insufficient symptom relief as assessed by their healthcare provide. Order # 327574
Company spokesperson Yulia Kramarenko states that "as North American COVID-19 related deaths reach more than 1.3 million casualties, knowledge of this effective, safe & approved COVID-19 therapy MUST be shared with both health care professionals and the public".
Dolphin Vagal Nerve Stim Applications:
PREVENTION: Dolphin may be applied preventatively to friends, family members or front-line workers in order to enhance vagal tone & improve immunity. (Home application time <15 min).
ACUTE RESPIRATORY DISTRESS: Dolphin Vagal Stim can IMMEDIATELY enhance respiratory functioning, providing a potentially lifesaving intervention into any hospital, clinical or home setting (applied in 10-15 min).
COVID-19 LONG HAUL RECOVERY: Dolphin Vagal Stim may be applied by COVID Long Haulers to reduce symptoms and improve recovery.
DOLPHIN VAGAL STIM KIT:
The Dolphin Vagal Nerve Stimulator (VNS) Kit comes with Dolphin device, Vagal Up protocol manual and instructions for at-home or clinical application. Dolphin Vagal Nerve Stimulator (VNS) Kit retails for $749.00 USD and may be purchased directly from the company's website. For more information contact: 1-800-859-8869 or contact info@DolphinMPS.com.
Categories: Biotechnology, Healthcare, COVID-19