May 9, 2023
New Chief Technology Officer will help to accelerate the delivery of high-quality development and manufacturing services for the next generation of RNA therapies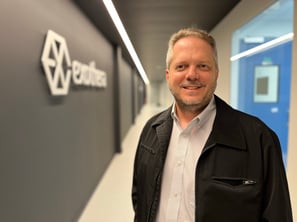 Exothera Nucleic Acids, the world's first nucleic acid CRDMO to provide continuous RNA manufacturing services from early discovery up to commercial cGMP, announced the appointment of Dr. Patrick Thiaville as Chief Technology Officer to support its growth in the rapidly expanding RNA therapies market.
Patrick's technical knowledge and leadership in GMP operations, Process Development, and MSAT activities come from over 20 years of expertise in designing and modifying microorganisms and plasmids. He has successfully led teams in clinical manufacturing of live biotherapeutic products and the design and build-out of manufacturing infrastructure. Patrick was a thought leader for cGMP plasmid manufacturing at Thermo Fisher Scientific and has been featured in a number of industry magazines including Outsourced Pharma, the Medicine Maker and Cell&Gene.com.
Patrick commented: "Exothera is truly at the forefront of RNA therapeutic development with its paradigm shifting and innovative continuous RNA manufacturing technology. With this approach, we enable our clients to bring therapeutics to a global market faster by using a standardized and more efficient process. I'm thrilled to join the team as there is an excellent fit between my skills and Exothera's commitment to innovation and quality."
"We are very excited to welcome Patrick to Exothera's nucleic acids business unit," said Thibault Jonckheere, CEO of Exothera. "His deep expertise and knowledge of the RNA industry will be a tremendous asset as we continue to expand our contract development and manufacturing services. We look forward to Patrick's contributions as we continue to innovate and grow."
About Exothera
Exothera is a contract research, development, and manufacturing organization (CRDMO) dedicated to viral vector and nucleic acids production. As a technology-driven company, Exothera provides best-in-class bioprocessing expertise that capitalizes on the best and most innovative manufacturing technologies developed within the Univercells group. The company delivers accelerated discovery services and process development/optimization to rapidly reach GMP clinical and commercial production of viral vectors and nucleic acids. Exothera is part of Univercells, a global life sciences leader with the mission of making biologics accessible to all". Find out more at www.exothera.world
Categories: Drug Discovery & Development, Pharma, Corporate, Finance & Investor