July 20, 2022
▪ The PyroCell® Monocyte Activation Test - Human Serum System (PyroCell® MAT HS System) provides more sensitive detection of non-endotoxin pyrogen contaminants in pharmaceutical preparations
▪ The human serum-based system shows reduced interferences when testing for pyrogenicity in more complex drug products, such as in blood-derived therapeutics
▪ By using human serum, the new test expands the options for robust, reliable pyrogen tests while decreasing dependence on animal-sourced materials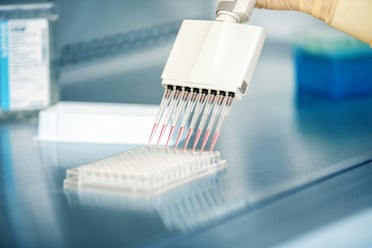 Lonza has launched the PyroCell® Monocyte Activation Test - Human Serum System (PyroCell® MAT HS System), which uses human serum instead of fetal bovine serum. This new in vitro pyrogen testing system exhibits enhanced sensitivity for detection of non-endotoxin pyrogens as well as reduced interferences from complex drug products such as biologics-based pharmaceuticals.
By replacing fetal bovine serum, the new PyroCell® MAT HS System increases sustainability by reducing the need for experimental animals and animal-derived components in pyrogen testing. Pharmaceutical manufacturers globally can now rely on Lonza for a range of high-quality, sensitive and sustainable in vitro pyrogen tests.
Janet Yancey-Wrona, Head of Marketing for Testing, Lonza BioScience, commented: "The pharmaceutical industry is looking to future-proof its quality control testing programs by reducing the use of experimental animals while employing robust tests suitable for use with the diversity of emerging biologics products. To support the unique needs of these new modalities and facilitate this shift, we are leveraging our collaboration with Sanquin Reagents to add the PyroCell® MAT HS System to our testing portfolio. With our expanded offering of sustainable tests, customers can select the best in vitro pyrogen and endotoxin tests for their specific needs."
The Monocyte Activation Test (MAT) is an in vitro pyrogenicity test that mimics the human immune response to both bacterial endotoxin and non-endotoxin pyrogens (NEPs). As such, the MAT offers an ideal solution to replace the rabbit pyrogen test, thereby reducing reliance on experimental animals.
Conducting the MAT involves a cell culture step that requires a serum source, and different serum sources provide different reactivity profiles. Using human serum in place of fetal bovine serum improves the sustainability of pyrogen testing by reducing the use of animal-derived components. Furthermore, the use of human serum in the PyroCell® MAT HS System may exhibit decreased interferences from complex product matrices and increased sensitivity to NEPs, improving the reliability of in vitro pyrogen testing.
The new PyroCell® MAT HS System adds a second pyrogen test to Lonza's pyrogen testing portfolio, providing robust and reliable pyrogen testing to customers throughout Lonza's global network. Customers can now choose the best pyrogen test system for their specific needs and take advantage of Lonza's expert technical service to support implementation and optimize testing processes.
For more information, please visit www.lonza.com/mat
About Lonza
Lonza is a preferred global partner to the pharmaceutical, biotech and nutrition markets. We work to enable a healthier world by supporting our customers to deliver new and innovative medicines that help treat a wide range of diseases. We achieve this by combining technological insight with world-class manufacturing, scientific expertise and process excellence. Our unparalleled breadth of offerings enables our customers to commercialize their discoveries and innovations in the healthcare industry.
Founded in 1897 in the Swiss Alps, today, Lonza operates across five continents. With approximately 16,000 employees (full-time-equivalent), we comprise high-performing teams and individual talent who make a meaningful difference to our own business, as well as to the communities in which we operate. The company generated sales of CHF 5.4 billion with a CORE EBITDA of CHF 1.7 billion in Full-Year 2021. Find out more at www.lonza.com
Follow @Lonza on LinkedIn
Follow @LonzaGroup on Twitter
Additional Information and Disclaimer
Lonza Group Ltd has its headquarters in Basel, Switzerland, and is listed on the SIX Swiss Exchange. It has a secondary listing on the Singapore Exchange Securities Trading Limited ("SGX-ST"). Lonza Group Ltd is not subject to the SGX-ST's continuing listing requirements but remains subject to Rules 217 and 751 of the SGX-ST Listing Manual.
Certain matters discussed in this news release may constitute forward-looking statements. These statements are based on current expectations and estimates of Lonza Group Ltd, although Lonza Group Ltd can give no assurance that these expectations and estimates will be achieved. Investors are cautioned that all forward-looking statements involve risks and uncertainty and are qualified in their entirety. The actual results may differ materially in the future from the forward-looking statements included in this news release due to various factors. Furthermore, except as otherwise required by law, Lonza Group Ltd disclaims any intention or obligation to update the statements contained in this news release.
Categories: Biotechnology, Pharma