November 30, 2021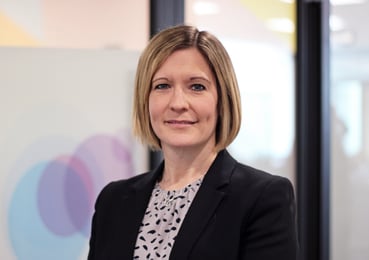 Integrated drug discovery specialist Sygnature Discovery has appointed Louisa Jordison as Chief Financial Officer.
The UK-based contract research organisation is aiming to build on its success after growing from 200 to 450 employees in under four years.
Louisa joined Sygnature Discovery in 2019 as Director of Strategic Planning, and enters the company's boardroom having previously spent more than a decade in Deloitte's corporate finance advisory team and worked as Senior Strategic Planning Manager at Experian.
She replaces Victoria Tabiner, who is stepping down after 10 years at Sygnature.
Dr Simon Hirst, CEO and founder of Sygnature Discovery, said: "Louisa has an incredibly strong finance background and will bring a wealth of experience to the role of CFO.
"Louisa's appointment comes at an exciting time for our business as we develop relationships with customers new and old in our key US, UK, European and Asian markets.
Louisa Jordison, Chief Financial Officer at Sygnature Discovery, said: "I am looking forward to working with the board, my team and all colleagues in my new capacity.
"This is a fantastic place to work and home to real scientific innovation, so there are plenty of brilliant opportunities ahead of us."
Earlier this year, Sygnature Discovery opened an office in South San Francisco and hired Dr David Lustig as Vice President of Business Development for North America to spearhead its expansion across the Atlantic.
Also in 2021, the firm received a significant investment from Five Arrows Principal Investments, the European corporate private equity arm of Rothschild & Co – with the exiting shareholder, Phoenix Equity Partners, having seen Sygnature's revenue more than double since September 2017.
Simon added: "This has truly been a tremendous period for Sygnature Discovery.
"As we look to 2022 and beyond, the future looks very bright indeed."
For more information about Sygnature Discovery, visit www.sygnaturediscovery.com
About Sygnature Discovery
Sygnature Discovery is a leading independent integrated drug discovery and non-clinical services company. Private equity-backed since 2017, the company operates fully enabled research facilities in Nottingham and Alderley Park, UK, housing more than 400 research scientists (over 80% of whom hold a PhD), and has an office presence in Cambridge, MA, and South San Francisco, CA, in the US.
Their experienced drug-hunters possess all the professional skills and know-how required to undertake the most demanding of research programmes, and drive them from target validation through hit identification, hit-to-lead and lead optimisation to pre-clinical development candidate. Sygnature's in vivo pharmacology arm was formed by the incorporation of RenaSci, acquired in 2018, into Sygnature's fully integrated drug discovery platform. In 2020 Sygnature added to this with the acquisitions of in vivo oncology firm Alderley Oncology and DMPK provider XenoGesis.
Since 2011, 34 compounds discovered by Sygnature for customers have entered pre-clinical development and, so far, 17 of these have progressed to clinical trials (Phases I, II and III). In 2017, Sygnature Discovery received the prestigious Queen's Award for Enterprise for International Trade, and in the last year has won both the Medilink Outstanding Achievement Award and the Bionow Company of the Year Award.
Categories: Drug Discovery & Development, Corporate, Finance & Investor