December 8, 2020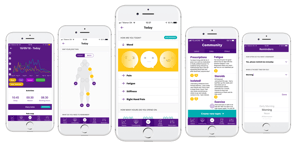 At Daman we are very excited to announce that we have signed a partnership agreement with leading pharmaceutical companies Gilead Sciences and Galapagos. The partnership agreement will include 15 markets globally. The purpose of the partnership agreement is to reach more people living with chronic disease Rheumatoid Arthritis (RA).
Affecting more than 3M patients in the EU and 17.6M worldwide Rheumatoid Arthritis (RA) imposes a high burden on both individuals, societies, and healthcare sectors.
Digital health technology – as adjunct to traditional care – provides a significant opportunity to deliver continuous, cost-effective, and timely support to patients supporting behavioral changes, improve quality of life for individuals. As exemplified with the RheumaBuddy application already used by 15,000+ Rheumatoid Arthritis (RA) patients in Europe.
"There is a huge unmet need among RA patients to give more holistic care offerings. The partnership enables us to take important steps in the direction – to the benefit of patients and society," says Andreas Dam, CEO at Daman.
The National Rheumatoid Arthritis Society (NRAS) in the United Kingdom have been working alongside Daman for many years and promoting the use of the RheumaBuddy app to people living with RA in the UK. Clare Jacklin, NRAS CEO said "RheumaBuddy is a really valuable addition to the 'patients' resource toolkit'. The App encourages and promotes better disease self-management and empowers individuals to track and understand their disease progress in a very user-friendly application."
The partnership agreement runs until September 15th 2021 with the possibility of extension.
In addition to the new partnership, in November 2020 Daman started a 3-year development project for the RheumaBuddy application. With the ambition to take the best in class application to its next level Daman received a 1M EUR project funding from EU and will now start to reach out for patients and patient organizations interested to join workshops, be available for interviews, test new releases of the application.
During the next 6 months, new features will be added – inspired by co-creation with patients:
The Good Consultation – helping patient and healthcare professionals collaborate better, ensuring expectation alignment, avoiding frustration etc. We will do this with focus on the consultations between patient and rheumatologists

My Plan & Goal – guiding and support healthy habits towards coping and improve quality of life with RA. Knowing your realistic goals living with RA is important in the right treatment and coping tactics, and it must balance with your energy levels

The partnership agreement provides a sponsorship only. The actual functionalities and content are still co-created by patients, healthcare professionals and the team at Daman.

About RheumaBuddy and Daman
Launched in 2014 and used by 15,000+ patients in 32 countries, RheumaBuddy is a market leader application for patients living with chronic disease Rheumatoid Arthritis (RA). The digital health service is developing into the next-generation context-aware algorithm-driven app designed to help patients self-manage their disease and transform RheumaBuddy to a platform, benefiting all stakeholders in the rheumatology care eco-system: patients, healthcare professionals, patient organizations, payers and pharmaceutical companies by enabling a holistic approach supporting the importance of co-creation for true patient value and improved quality of life.
RheumaBuddy is built on the HealthBuddy platform which is applied within several disease areas in Europe and globally, serving multiple thousands of people with chronic diseases. At Daman, a digital healthcare partner based in Denmark that enables innovative teams develop life-changing solutions for patients, we find that people with chronic diseases deserve to enjoy the highest quality of life possible. This is made possible using co-creation methodology and digital health services.
Categories: Healthcare, Hospital Management