May 24, 2022
Discover on June 7 how to evaluate, implement, and validate a Manufacturing Execution System (MES) to embrace digitalization and Pharma 4.0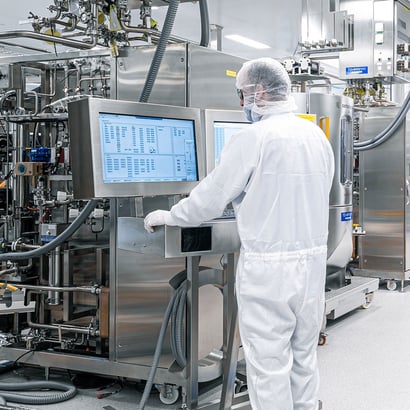 On June 7, 2022, Lonza Bioscience Informatics will host a free 45-minute webinar, where a panel of industry experts will discuss the reality of MES implementation and provide valuable insights into how companies can successfully make the move from paper to a digitalized system. Webinar attendees will have the chance to ask questions and engage with the experts from across industry, all of whom have recently undergone the process.
To increase productivity and streamline the efficiency of modern manufacturing, implementing a MES is a clear choice. Although the benefits are numerous, there are hurdles to overcome, including how to get buy-in from leadership and users and how to approach validation. For those considering, or in the process of, implementing a MES, it may be tricky to navigate the various challenges and begin reaping the rewards of a digitalized system.
Lonza has extensive knowledge and experience in developing informatics solutions to support and empower manufacturers. By hosting this panel of speakers from a range of industries in a comprehensive discussion, Lonza hopes to help facilitate digital transformation and encourage organizations to drive productivity and reduce errors through the elimination of paper-based processes.
During the webinar "The reality of MES Implementation", the panel will discuss a range of topics including:
Evaluation criteria for selecting a MES
Approach to validation
User adoption
The importance of vendor and service partner collaboration, and how these roles evolved over the project
For more information on the webinar and how to register, visit our event page.
Panel Discussion: The Reality of MES Implementation:
Speakers:
Montrell Lofton, Senior Project Engineer, Sequence, Inc.
Nicholas Penwell, Senior Automation/Applications Engineer, Nephron Pharmaceuticals
Corporation
Geoff Swafford, Director of IT Manufacturing and Facilities Engineering, KBI Biopharma, Inc.
Moderator:
Jeremy Tanner, Director Sales, MODA, Lonza Bioscience Informatics
Tuesday, 7 June 2022:
9am (EDT)
2pm (BST)
3pm (CEST)
Further information on Lonza's MES and digital solutions can be found on the website.
Lonza runs an extensive webinar program sharing expert know-how, useful tips, and the latest news from users as well as from Lonza's R&D and Scientific Support Teams. For more information about upcoming and on-demand webinars please visit our webinar page.
About Lonza
Lonza is the preferred global partner to the pharmaceutical, biotech and nutrition markets. We work to enable a healthier world by supporting our customers to deliver new and innovative medicines that help treat a wide range of diseases. We achieve this by combining technological insight with world-class manufacturing, scientific expertise and process excellence. Our unparalleled breadth of offerings enables our customers to commercialize their discoveries and innovations in the healthcare industry.
Founded in 1897 in the Swiss Alps, today, Lonza operates across five continents. With approximately 16,000 employees (full-time-equivalent), we comprise high-performing teams and individual talent who make a meaningful difference to our own business, as well as to the communities in which we operate. The company generated sales of CHF 5.4 billion with a CORE EBITDA of CHF 1.7 billion in Full-Year 2021. Find out more at www.lonza.com
Follow @Lonza on LinkedIn
Follow @LonzaGroup on Twitter
Additional Information and Disclaimer
Lonza Group Ltd has its headquarters in Basel, Switzerland, and is listed on the SIX Swiss Exchange. It has a secondary listing on the Singapore Exchange Securities Trading Limited ("SGX-ST"). Lonza Group Ltd is not subject to the SGX-ST's continuing listing requirements but remains subject to Rules 217 and 751 of the SGX-ST Listing Manual.
Certain matters discussed in this news release may constitute forward-looking statements. These statements are based on current expectations and estimates of Lonza Group Ltd, although Lonza Group Ltd can give no assurance that these expectations and estimates will be achieved. Investors are cautioned that all forward-looking statements involve risks and uncertainty and are qualified in their entirety. The actual results may differ materially in the future from the forward-looking statements included in this news release due to various factors. Furthermore, except as otherwise required by law, Lonza Group Ltd disclaims any intention or obligation to update the statements contained in this news release.
Categories: Biomanufacturing, Corporate, Finance & Investor