January 13, 2022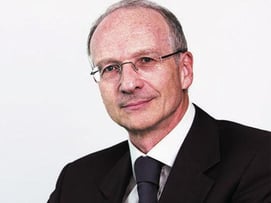 Sygnature Discovery, the world's leading integrated drug discovery solutions provider, has appointed the highly experienced pharmaceutical executive Dr Charles Woler as Chairman.
In a broad career, Dr Woler has held multiple key roles in the sector, including CEO at Roche France, Executive Chairman for Europe at SmithKline Beecham PLC, and CEO at Cadus Pharmaceutical in the US.
He has also worked in numerous biotech-focused venture capital firms, chairing the advisory committee of the public-private Inserm-Transfert Initiative Investment Committee fund and serving as Vice Chairman of the France Biotech trade association for three years.
In addition, Dr Woler set up French biotech company Neuro3d before selling the business, co-founded Swiss biopharmaceutical firm Inflamalps, and was CEO at Biomnis, one of the largest independent laboratories in Europe.
He gained a PhD in Clinical Pharmacology from the University of Lyon and an MD from Université Paris Diderot (Paris VII), and has since spent more than 35 years in the pharmaceutical, biotech and medical sectors in Europe and North America.
Dr Woler joins Sygnature Discovery after the company received significant investment from Five Arrows Principal Investments, the European corporate private equity arm of Rothschild & Co, in 2021.
The UK-based contract research organisation (CRO) has grown from 200 to more than 500 employees in under four years and opened a second US office in South San Francisco last April.
Dr Charles Woler, Chairman at Sygnature Discovery, said: "I am a long-time admirer of Sygnature Discovery, having previously done due diligence on the company while considering investment possibilities when working in private equity, so I am thrilled to join such a successful, ambitious organisation.
"Sygnature has a reputation for delivering quality scientific work with a culture that enables very effective communication and collaboration, plus a track record of developing compounds into the clinic.
"I believe it is a company that is going places, and I look forward to playing a part in fulfilling its vast potential at such an exciting time in the world of drug discovery."
Dr Simon Hirst, CEO and founder of Sygnature Discovery, said: "We are very excited to be working with Charles in this new phase of investment. Charles has a wealth of pharmaceutical knowledge and experience in various leadership, R&D, sales and management positions across our industry.
"He will help shape the strategic approach of our thriving drug discovery business as we look to accelerate our growth and continually enhance our service offering to our customers."
As Chairman, Dr Woler is keen to support Sygnature Discovery's recruitment efforts, broaden its therapeutic areas, grow its presence in North America, and build on the potential of AI and machine learning in drug discovery.
Alongside his new role, Dr Charles Woler also holds a number of positions on the boards of other organisations, including Chairman at French biotech firm DEINOVE and Non-Executive Director at Croatia-based CRO Optimapharm.
For more information about Sygnature Discovery, visit www.sygnaturediscovery.com.
About Sygnature Discovery
Sygnature Discovery is a leading independent integrated drug discovery and non-clinical services company. Private equity-backed since 2017, the company operates fully enabled research facilities in Nottingham and Alderley Park, UK, housing more than 400 research scientists (over 80% of whom hold a PhD), and has an office presence in Cambridge, MA, and South San Francisco, CA, in the US.
Their experienced drug-hunters possess all the professional skills and know-how required to undertake the most demanding of research programmes, and drive them from target validation through hit identification, hit-to-lead and lead optimisation to pre-clinical development candidate. Sygnature's in vivo pharmacology arm was formed by the incorporation of RenaSci, acquired in 2018, into Sygnature's fully integrated drug discovery platform. In 2020 Sygnature added to this with the acquisitions of in vivo oncology firm Alderley Oncology and DMPK provider XenoGesis.
Since 2011, 34 compounds discovered by Sygnature for customers have entered pre-clinical development and, so far, 17 of these have progressed to clinical trials (Phases I, II and III). In 2017, Sygnature Discovery received the prestigious Queen's Award for Enterprise for International Trade, and in the last year has won both the Medilink Outstanding Achievement Award and the Bionow Company of the Year Award.
Categories: Drug Discovery & Development, Corporate, Finance & Investor