December 7, 2021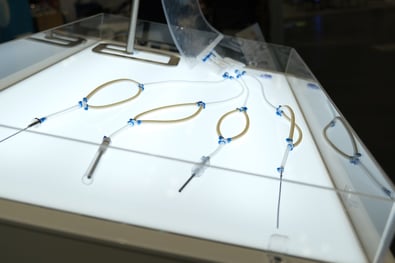 During October 19-20-21 the Interphex international trade fair was held in New York, an event which stands out for the massive participation of the best companies in the pharmaceutical and biotechnology sector. They take advantage of this great occasion to present their new products and advances in science.
Venair did not hesitate to present its new range of tubing and single-use assembly in state-of-the-art ISO7/Class 10.000 clean rooms and with sterility treatments. Led by its Senior Vice President, Michael Allard, the American delegation had the opportunity to meet the visitors and show their new products such as their single use kits, products fully customizable at the customer's request and with a wide range of elements to obtain the required finish.
They also had the opportunity to present their new products, just out of the laboratory. Vena® Flexip and Vena® Flexpure.
The former is especially recommended for the transport of liquid or semi-liquid fluids in the food, cosmetics, chemical and pharmaceutical industries. It has a good resistance especially in fatty or oily foods and glycols, as well as in alcoholic beverages. Shapes such as elbows, and bends can also be manufactured to adapt to any installation. And the second, Vena® Flexpure, the perfect hose with PTFE inner layer, which makes it highly resistant to both acids and some basic CIP solutions. Thanks to its ultra-flexible smooth bore construction, it is ideal for processing powders, liquids, and semi-liquids in applications where a highly hygienic design and good mechanical performance are required.
All showcased in a designer booth and mentioning their big new news, the expansion of their biotech division. Venair is once again expanding its production facilities and this time it is dedicated exclusively to the development of its Biotech products and their certificates.
The specialized team will be able to work and meet all the needs that the market may have, facing this final stretch of the year as a transition and eager to present all the news that are to come.
Being one of the companies that invests the most in the opening of production centers, logistics and commercial offices, it could be said that Venair is betting very hard to reach the top of the list of the best companies in design, production, and certification of silicones for its customers.
About Venair
Venair Group is an international leader in manufacturing silicone hoses and special pieces of silicone. We provide complete custom design services for all kinds of applications. We work with the most demanding industries such as the pharmaceutical, industrial and biotechnological. www.venair.com
Categories: Biomanufacturing, Biotechnology